Image 16: DENIAL
As the tragic process toward death begins; Gaia's initial response is one of denial; an unwillingnessto accept what is happening to her and a refusal to bear witness to the Earth's destruction. Shefaces away from us, stiff and still as if in a state of shock, as though walking steadily toward the only light source that exists amongst the total darkness surrounding her-much the same way as the neardead claim that they see a light at the end of the tunnel.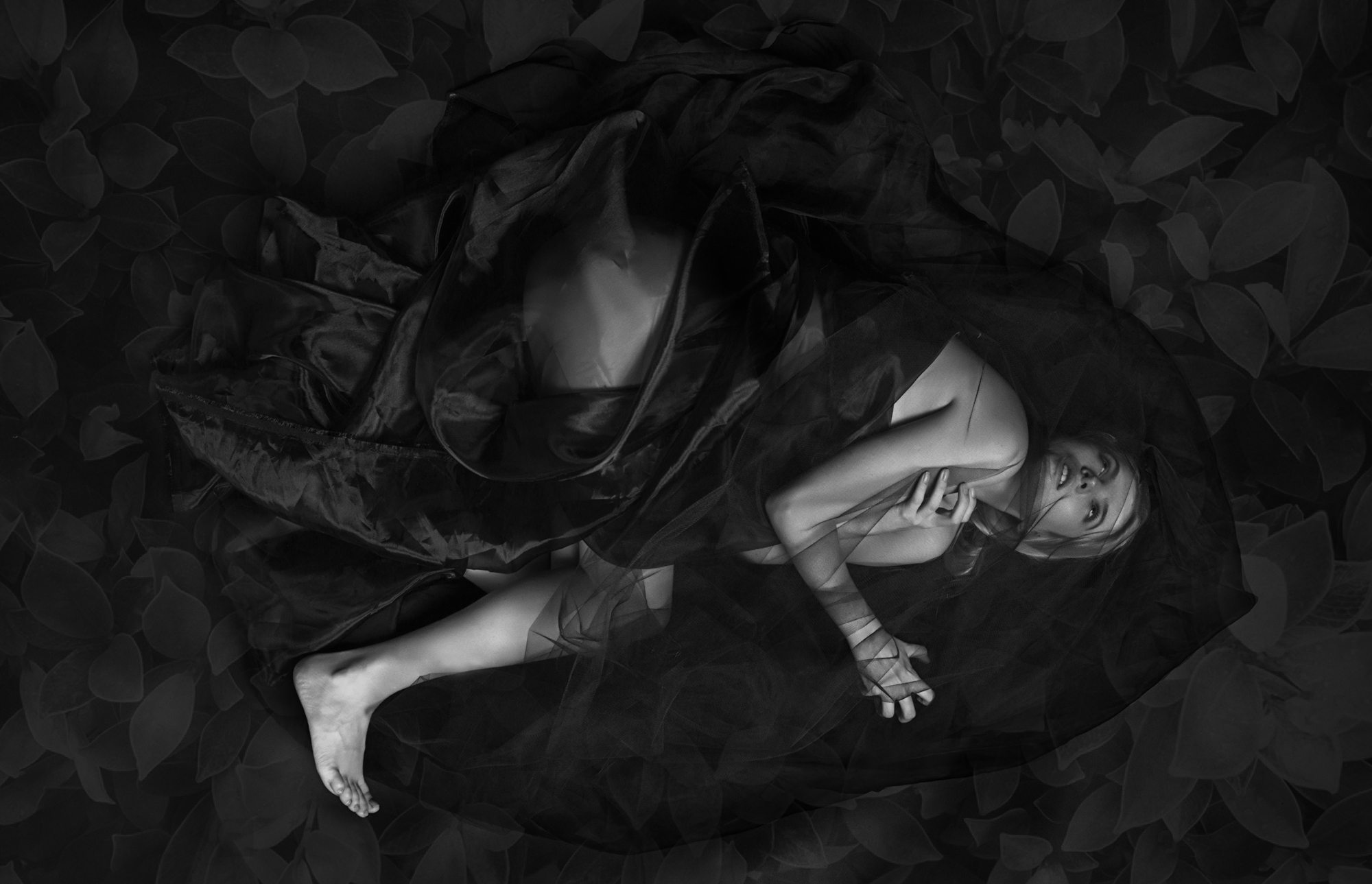 Image 17: CRISIS
No longer able to deny the inevitable, Gaia is at a crisis point; where the best way to proceed is far from clear. It is a point where her existing beliefs, practices and frameworks offer no good guidance. Shebegins to feel a sense of powerlessness. She sits curled up, arms wrapped around her legs that overlap each other. She is tense, cowering from Man's sins in an attempt to protect herself. Man's sins precipitate her crises and the onset of the Earth's rapid decline.
Image 18: DECLINE
There is an awareness in Gaia that the last stage of her life and that of the Earth is approaching.Evidence of her decline declare themselves; we see changes in her appearance. She has an old womanly frailness reflecting a loss of agility, a diminution in energy and a look of fatigue. She has been brought to her knees as the weight of Man's sins rest heavy and her imminent death is upon her. Gaia is kneeling over a mirror resting on the floor, hunched and partially covered in the black veil contrasted against her bare skin, in a position that references the pose in Caravaggio's "Narcis-sus", where she sees her own reflection as deathly skull
Image 19: DEATH
Almost at series end, Man's sins and destructiveness have resulted in Gaia's death and the obliter-ation of the Earth. A deathly figure from Hades looks aside a static, charred black bundle of mate-rial on the floor – Gaia is no longer present as a deistic image in this photograph. She is simply a shadow of her former self. This final stage is portrayed with a miserable finality. A solitary black "grim reaper" figure stands in the shadow, to the left of our view and in the background-left-handednesstraditionally associated with the devil.
Thanatos
DEATH depicts Gaia across the stage of dying. Thanatos is merciless and indiscriminate in this phase, hated by- and hateful towards mortals and gods alike, presenting an inexorable fate-the culmination of Man's risky and self-destructive acts that have led to Gaia's death.